Shelbyville Illinois Area Wineries
Vahling Vineyards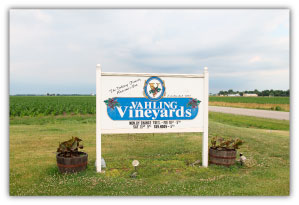 First opened in 1997 by Brenda and Dennis Vahling and their children, Vahling Vineyards bottles and markets their wine using a variety of grapes that are indigenous to the Shelbyville area.
They have narrowed their selection down to 5 superior varieties while also carrying non-alcoholic beverages.
The vineyard is located near Strewardson and they're open:
June through December
Hours: Tuesday – Saturday 10 am – 5 pm
Sunday –  Noon – 5 pm
Closed major holidays.
For more information visit their website here or call (217) 682-5409
Niemerg Family Winery
This father son trio, Don, Bill & Dan opened the Niemerg Family Winery in the fall of 2007.
They offer a wide range of wines with grapes which have been imported from across the U.S. as well as local to Illinois and nearby Michigan & California.
The tasting room has been completed and the renovation of the 100 yr old building will be a work in progress for the next few years.
The winery is located at 301 S. Main St. in downtown Findlay.
For more information call (217) 756-5521
There are lots of great wineries near Shelbyville, so come on out and meet up with some of the finest winemakers in the area.