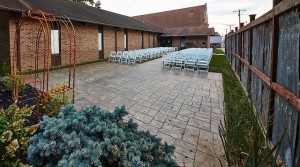 Spruce St. Studios is a one-of-a-kind private events venue — located in the heart of historic Shelbyville, IL just minutes from beautiful Lake Shelbyville. — making it a special place to hold private events, including indoor and outdoor wedding ceremonies, wedding receptions, holiday parties, formals, corporate meetings as well as annual award and fundraising banquets.

The venue is a large repurposed brick church featuring two beautiful spaces, including reclaimed flooring, cathedral wood ceilings, architectural beams, water features and spectacular lighting. The venue is equipped with everything clients need to accommodate their special event. It features one large room with spacious seating options for up to 300 guests, a second space with seating up to 215 for smaller events and a beautiful outdoor area for ceremonies.

Proprietor Renee Tucker renovated and launched the new concept to give people an upscale place to hold their special event. Their goal is to provide an elegant experience closer to home through affordable packages that pack in loads of value.
The Spruce St. Studios event planning team understands the numerous details associated with

hosting special events and offers simple in-house packages as well as offsite party rentals, including tables, chairs, linen services, sound systems and lighting with affordable packages all under one roof to ensure a stress-free experience.
For more info visit http://spruceststudios.com