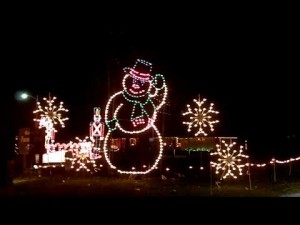 The Shelbyville Festival of Lights – Lake Shelbyville Christmas Light Display Forest Park will begin November 16th at Forest Park with the annual soup supper held at the Shelby County Senior Center from 4:30-6:30 p.m. on Saturday, November 17th. A great variety of soups, sandwiches, and desserts will be available. As always, the soup supper is by donation.
The lights will run from 6-9 p.m. Sunday through Thursday, and 6-10 p.m. Friday and Saturday, concluding December 30th, 2012. The Shelbyville Festival of Lights has become a great attraction for children of all ages and has brought visitors to Shelbyville from all over the Midwest.
The committee has begun the delivery and assembly of light displays in Forest Park this past week and needs help in the continued delivery and assembly. There are jobs that anyone and everyone can help with, to include many that do not require heavy lifting. Work takes place daily under the skilled guidance of Bill Bly, beginning at 9 a.m. at the park maintenance building. For those who only have time on the weekend, workdays will be every Saturday at 9 a.m. beginning Saturday, October 13th.
The festival continues to work closely with the Shelbyville High School welding and business classes. The committee greatly appreciates the support of the community and looks forward to another great year. For more information about volunteering, sponsorship, or general inquires, please call Tad Mayhall at 246-3592.