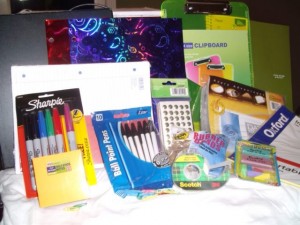 Tad A. Mayhall, an Edward Jones financial advisor in Shelbyville, is supporting the Shelbyville schools by collecting supplies and fans to keep students cool by using his office as a drop-off location for a school supplies drive.
Local residents and businesses may help by bringing in items to the Edward Jones branch office during regular business hours from now to August 31st.
"As our world becomes more global, competition within our younger generations continues to rise, emphasizing the importance of a quality education," said Mayhall. "We're proud to support the academic development of young minds in this community through this summer's school supply donation program.
The branch address is 101 S. Vine St., Shelbyville, telephone 217-774-1342.
Edward Jones provides financial services for individual investors in the United States and, through its affiliate, in Canada. Every aspect of the firm's business, from the types of investment options offered to the location of branch offices, is designed to cater to individual investors in the communities in which they live and work. The firm's 12,000-plus financial advisors work directly with nearly 7 million clients to understand their personal goals — from college savings to retirement — and create long-term investment solutions that emphasize a well-balanced portfolio and a buy-and-hold strategy. Edward Jones embraces the importance of building long-term, face-to-face relationships with clients, helping them to understand and make sense of the investment options available today.
In January 2012, for the 13th year, Edward Jones was named one of the best companies to work for by FORTUNE Magazine in its annual listing. The firm ranked No. 5 overall and No. 3 in Large Size Companies. These 13 FORTUNE rankings include top 10 finishes for nine years, consecutive No. 1 rankings in 2002 and 2003, and consecutive No. 2 rankings in 2009 and 2010. FORTUNE and Time Inc. are not affiliated with and do not endorse products or services of Edward Jones.