Lake Shelbyville Illinois Marinas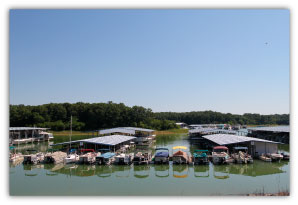 Lithia Springs Marina
Lithia Springs Marina is Shelbyville's "Gateway to Water Paradise" on beautiful Lake Shelbyville, Shelbyville, Illinois.
Lithia Springs Marina is a full-service marina accommodating all area boaters. They offer 325 slips for those wishing to leave their boats in the water all season.
Their floating, concrete structures offer both covered and uncovered slips.
Covered slips range in size from 18×8 runabout slips to 44×18 cruiser/houseboat slips.
Uncovered slips range from 17×8 to 75×20.
For the slipowners convenience, we offer individually metered electricity, free city water, free sewage pumpouts-slipside or at gas dock, dock shower and toilet facilities.
The marina also offers wet aerated or dry winter storage on property and inside storage is available in nearby facilities. The adjacent Corps of Engineers launch ramp offers a concrete ramp with a suitable slope and a pier for the launching of all boats from the smallest fishing boat to large houseboats and fixed keel sailboats.
The marina is located on Lithia Springs Campground property at RR4 Box 103a, Shelbyville, Illinois, 62565
Rentals and info (217) 774-4121
Sales and service (217) 774-3221
[email protected]
lithiamarina.com
From Shelbyville:  Take Rt 16 east out of Shelbyville 3 miles, turn left on County Rd 2200E, (Big billboard on the right and a turn lane to go left or north).  Go to the  stop sign (Co Rd 1500N), turn left, follow the signs to the park and marina.
From Mattoon:  Take Rt 16 West out of town, go 22 miles to County Road 2200E, Turn right or north(Big billboard on the left), go to the stop sign,(Co Rd 1500N), turn left, follow the signs to the park and marina.
GPS coordinates: The closest is the intersection of 2070E and 1500N, Shelbyville, Il.  If this does not show, put in 2200E and 1500N, Shelbyville. (This is about 2 miles east of the entrance)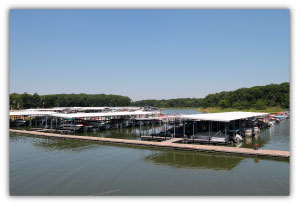 Findlay Marina
Findlay Marina is located at the heart of  Lake Shelbyville, and perfect host for a great variety of activities.
Findlay Marina is located only five minutes away from the Eagle Creek golf course, 30 minutes from Decatur, Mattoon, and I-57; Champaign and Springfield are only 1 hour away.
Findlay Marina is located at 536 CR 800 N. Findlay, IL 62534
Phone: (217) 756-8595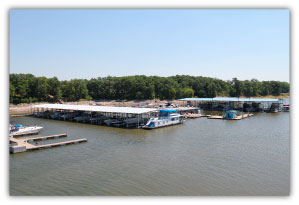 Sullivan Marina
Sullivan Marina and Campground is a popular resort located on the north end of Lake Shelbyville near Sullivan, Illinois.
Complete with full hookup campsites, covered boat slips and roomy kitchenette suites.
The resort has something for everyone. Guests can relax by the in-ground swimming pool, rent a pontoon boat, or dine at Skeeter's floating restaurant located at the on-site marina.
Sullivan Marina and Campground, LLC
925 South Hwy 32 Sullivan, IL  61951
(217) 728-7338