The Best Wedding Chapel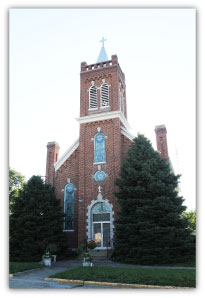 The Best Wedding Chapel is nestled in mid-west Illinois in the historic town of Shelbyville, Illinois.This Wedding Chapel offers traditional weddings as well as nontraditional wedding packages and wedding vow renewals.
Along with non-denominational ministers and affordable wedding packages, you can have that fun get-away wedding ceremony including theme weddings such as fantasy, exotic, biker, hippie, just to name a few.
It's located in the historic section of Shelbyville just behind the Shelby County courthouse. This former Catholic Church was built in the 1870s and has served as a sanctuary ever since.
The Chapel has ministers on staff so that you can be married in the historic chapel, mobile chapel or we can come to your site. The Senior Minister, "Brother Darrell" travels with "Best Man" the Chapel's mobile wedding chapel but may also serve locally.
You may also get married on the World's Fastest Chapel "Best Man" the Chapel's 1942 American la France mobile wedding chapel in Shelbyville or your favorite place. For a truly "moving" service a second minister would be required.
Trick My Truck transformed Darrel Best's 1942 American La France Fire Truck into a mobile wedding chapel. The episode aired in 2009 after four months of renovation. The truck named "The Best Man" has been featured on ABC's World News Tonight with Charles Gibson and on the BBC in the United Kingdom. September 2010, "The Best Man" made Ripley's Believe It or Not! It is now in the 2012 Guinness Book of World Records.
The truck features a video system and a 14 foot chapel. The Best Man has hosted the weddings of couple from as far away as Florida and California. Picturesque Lake Shelbyville is one of the most popular spots for ceremonies. The Best Man is available from the first day of spring until Halloween.
For more information on this or Best Wedding Chapel, visit www.bestweddingchapel.com or call (217) 774-7809.