The Historical Shelby County Courthouse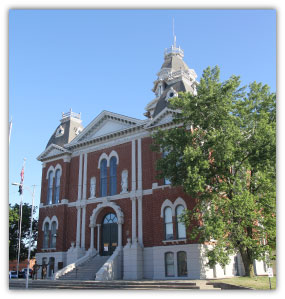 The Shelby Court House is the third to be built in Shelbyville. The building was built in one year and completed at the cost of $72,987.
The building is classic in its design, two stories high with a basement. The red brick is trimmed in stone with a spire-like tower rising fifty feet above the roof.
At each corner, small cupulos rise sixteen feet above the cornice line. The tower and cupulos are constructed of brick and iron.
Two statues once occupied niches above the south or front door.
A dedication ceremony was held on April 3, 1883 with Judges Anthony Thornton and Samuel Moulton as the main speakers.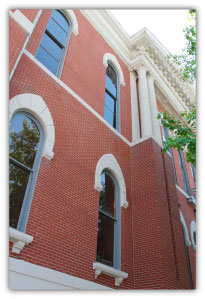 The first court session was held on this day. The walnut column was dismantled from the second courthouse and used to make chairs for the judges in the circuit court room. On November 17, 1894 a fire broke out in the County Clerk's office. Probate papers were destroyed. Repairs were made at a cost of $1,042.00.
Later improvements have been made to modernize the Court House. The clocks adorning the tower were purchased from the Old Main Street School.
In 1896 the building was wired for electricity. Hot water heat was installed at that time. Redecorating was completed in 1907. In 1955, the original slate roof was replaced with asphalt.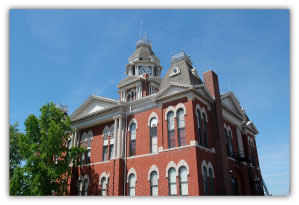 Further redecorating in the 1960's made the circuit courtroom and offices on the second floor more modern with an elevator and air conditioning added.
Today the courthouse is a Shelbyville landmark. In addition to conducting county business, many people enjoy its architecture. Visible long distances from town, it provides a welcoming site to our cozy community.
The first business of the Shelby County Court House included:
First marriage license was issued to John Cochran and Sally Bateman on May 3, 1827.
First license for keeping a grocery store was granted to Elias Miller on December 3, 1827.
Mary Jane Oliver, daughter of Joseph Oliver, was born February 3 , 1828.
The first deed was executed on February 11, 1828 Conveying 80 acres of land from Valentine Brazell and his wife Nancy, to Jesse B. Combs.
The first divorce decree was sought on September 15, 1828. Bennet Robinson and his wife Elizabeth Robinson had quarreled and sought a divorce.
The first will was probated on February 22, 1832, in that Kenneth Mciver appointed his wife and Alexander McIver, executrix.
The Shelby County Board is now undertaking a $1.5m renovation project which includes replacing the building's 48-year-old heating system with a new geothermal heating and cooling system, removing asbestos, creating a new building entrance and adding some safety features. Funding for the project will come from the county's sale of coal and gas rights.
The Shelby County Courthouse is a crown jewel of Shelbyville and is a great historical tourist site to see.