Bed & Breakfasts Serving Shelbyville Illinois, Shelby County & Lake Shelbyville
Country Charm Bed & Breakfast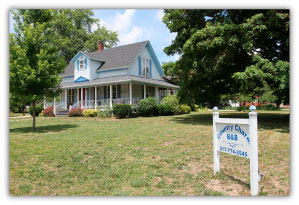 Come unwind at this charming and historical bed & breakfast built in 1858.
It feature 4 roomy bedrooms on the second floor.
After a long nights sleep, enjoy a hearty breakfast and then relax on the spacious front porch.
They're open year around. No pets allowed.
314 South Cedar, Shelbyville
(217) 774-2545 or 800-600-5352
This inn is located in the middle of historic Shelbyville, less than 3 miles to the lake.