Lake Shelbyville Visitors Center and Project Office
Lake Shelbyville Visitors Center and Project Office is a located on the east side of the Lake Shelbyville dam. The US Army Corps of Engineers facility consolidates the visitors center, which formerly stood on the spot, and the lake's former administration office which were built in the 1970's. The more energy efficient building is a sustainable design and is built from materials equivalent to USGBC LEED silver level requirements.
The facility includes special features such as art exhibits, conference rooms, a two-story grand lobby and expansive lake side deck providing gorgeous views of the lake and dam areas with  capabilities to faciltate interpretive programs, meetings at the lake and area community groups.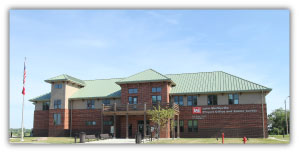 The 16,000 square foot, building centralizes the Lake Shelbyville USACE operation into one facility while providing space for administrative and operational lake staff.
Other complimentary project around the lake includes replacement of flood damaged buildings in the Dam West recreation area, upgrading the Bo Woods campground area, installing automatic fee collecting machines, controlling shoreline erosion and upgrading access facilities to the dam itself.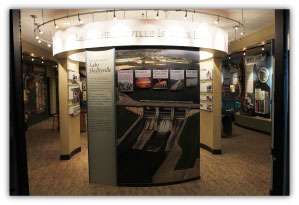 Part of a $13 million grant, the overall project was funded under the American Recovery and Reinvestment Act (ARRA) of 2009 and completed under a design-build contract through the U.S. Army Corps of Engineers.
The Lake Shelbyville Visitors Center and Project office are one of the many great things about Shelbyville.