Lake Shelbyville Area
State Parks & Campgrounds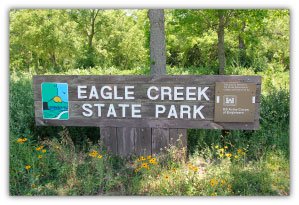 Eagle Creek State Park
R.R. 1 Box 198-B
Findlay, IL 62534
(217) 756-8260
The Eagle Creek State Recreation Area, a 2,200-acre site on the west side of Lake Shelbyville, has several fully developed picnic areas–complete with grills, tables, water and sanitary facilities, and playgrounds–scattered conveniently throughout the park for the casual day visitor.
There are 75 Class A Reservable sites with electricity, showers, water hydrants, fire blocks and picnic tables. Class B/S, and Class D sites are available but not reservable. The Organized Group Camp area is reservable. Shower buildings are closed by November 1st (may be earlier if bad weather) and reopen May 1st (may be earlier if good weather).
Boating and Fishing
From the four-lane launching ramp (adjacent to a 175-car parking lot), you can set out for a variety of water sports or lazy days of angling. In addition, there are two marinas on the lake providing a full range of boating and fishing supplies.There is a handicap transfer station for boaters at the boat ramp. A high water boat ramp provides access when the lake floods.
Miles of flooded brush, timber and rock rip-rap shorelines, many points with submerges ridges and hundreds of tributary streams emptying into Lake Shelbyville provide prime and productive fishing areas, teeming with black and white crappie, largemouth bass, walleye, channel and flathead catfish, bluegill, muskie, bullhead, carp and sunfish.
Three marked nature trails are available for tranquil and refreshing sojorns in the forest. More adventurous hikers enjoy setting off on the12-mile Illini Trail. A three-mile cross-country ski trail provides invigorating wintertime activity.
In addition to designated areas within Eagle Creek, hunting is available in the 785-acre Eagle Creek Wildlife Area just to the west. Shotgun squirrel, rabbit and quail hunting ia allowed or you can really test your skill stalking deer with bow and arrow. A state hunting license is required as well as a seasonal hunting permit, available for free from the park office. A bow range is provided for public use.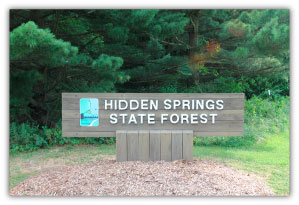 Hidden Springs State Park
R.R. 1, Box 200
Strasburg, IL 62465
(217) 644.3091
The name Hidden Springs was selected to designate this particular state forest because of the seven known springs on the property which were used for drinking water by the early settlers. Over the years these springs have been covered over by natural situation and vegetation (hence the name "Hidden Springs"). Rocky Spring and Quicksand Spring have access trails.
The entire forest area was originally planned as a state lake. These plans were altered when the construction of Shelbyville Reservoir began. The property was then assigned to the Division of Forestry in 1960 to be managed as a state forest. Following reorganization of the department in 1975 the property was reassigned to the Division of Land and Historic Sites. The area continues to be managed under the concept of multiple-use — sound timber and resource management complimented by compatible recreational opportunities.
The forest ownership consists of three separate tracts covering portions of eight sections of land. The terrain varies from flat bottomland areas along Richland Creek (which flows diagonally from northeast to southwest the entire length of the forest) to relatively steep hillsides. Generally the topography is gently rolling and broken by small draws and streams.
Rolling Meadows picnic area offers a large shelter, drinking water, playground equipment, privies, tables, stoves and a fire ring. Red Bud Lane, on the south end of this area, provides three small secluded sites. A small picnic area at the Big Tree has tables and stoves.
Possum Creek, a Class "C" campground, includes drinking water, privies, sanitary disposal station, pedestal stoves, fire blocks and a fire ring. Campers may set up camp on the site of their choice. Forest staff issue permits on routine rounds. Shady Grove Campground accommodates groups by reservation only. Ground fires in both areas are allowed only in the fire rings provided.
Five fishing ponds, two accessible by vehicle, the other three by foot only, are found on the forest property. Fish stocked are bass, bluegill, redear and channel catfish. Richland Creek flows the length of the forest but fishing opportunities are negligible. Swimming anywhere on forest property is strictly prohibited.
Possum Hollow Nature Trail, 3/4 mile in length, provides access to Park Pond and the pine seed orchard. Trail guides, available at the headquarters, campground, and picnic area, guide the visitor to the 35 interpretive stations. The Big Tree Trail, one mile in length, features a sycamore 78 inches in diameter, one of the largest to be found in Illinois. Rocky Spring Trail, three miles in length, includes Rocky Spring, a forest improvement area, walnut production areas and varied land and vegetation types. Seventeen miles of fire lanes also provide access to remote areas of the forest. Your cooperation in keeping both motorcycles and horses off foot trails and fire lanes is appreciated.
A pleasurable and peaceful forest environment awaits the visitor. A bird check list is available at the headquarters to those who come to enjoy the many songbirds on the area. Flowers and mushrooms grow prolifically throughout the forest.
Except for the 240 acres where the headquarters, campground and Rolling Meadows picnic area are located, the entire area is open to hunting. Only shotgun and bow and arrow are permitted. Hunting fact sheets and maps concerning species and times are available at 10 hunter parking lots or the forest headquarters. Hunters are required to complete hunter survey cards for each hunting trip. Please consult the forest superintendent if in question about boundaries, hours, or any other aspect of the hunting program. Wildlife food plots, providing habitat for the varied wildlife population are scattered throughout the area.
Directions to Hidden Springs State Forest. From Interstate 57 .Get off of I57 at Mattoon Exit Go west on Route 16 thru Mattoon, continue on Route 16 west thru the town of Gays , through the next town of Windsor. Two miles west of Windsor Route 16 Junctions with 32 South.  Turn left on 32 . Go 4 miles through the town of Strasburg Proceed 2 miles , turn right off of Route 32 Brown Information signs for Hidden Springs. 4 miles on this road you will be at drive to the office of Hidden Springs State Forest.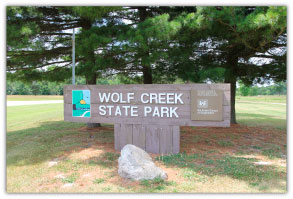 Wolf Creek State Park
R. R. 1, Box 99
Windsor 61957
217.459.2831
Wolf Creek State Park is located eight miles northwest of Windsor. The sites encompass large tracts of carefully maintained indigenous woodlands ideal for camping, horseback riding, snowmobiling, boat fishing, water skiing, pontoon boating, windsurfing or just plain bobbing and drifting on the glittering expanse of the lake itself.
In addition to visiting the small, friendly wooded campgrounds or taking part in the action on the lake, swimming is available from the beach. You can also take a leisurely stroll through nearby forests. An abundance of deer, pheasant, rabbits, wild turkey and songbirds are almost always visible.
Portions of the park have been cleared of physical barriers and are accessible to disabled visitors.
Family picnic areas are scattered throughout Wolf Creek State Park. Complete with grills, tables, water, sanitary facilities and playgrounds, you'll find everything you need to have a great outing. Two areas are equipped with shelters and facilities for disabled visitors. The Lost Shelter picnic area is an isolated, scenic area and is available by reservation.
There are 304 Class A campsites with restrooms and showers, electricity and picnic tables, a campgound cabin, and 78 Class C sites. In addition, there are two family tent camping areas, an organized group camp, and an equestrian campground. The shower buildings are closed by November 1st (may be earlier if bad weather) and reopen May 1st (may be earlier – weather depending).
A 140-site area in the Lick Creek section has also been designated for reservations. Requests for reservations are accepted starting in January for sites to be reserved between May 1 and October 31.
From the four-lane launching ramp (adjacent to a 175-car parking lot), you can set out for any variety of water sports. Rental boats and motors are available from several private marinas on the lake, which also provide a full range of boating and fishing supplies. There is a high water boat ramp for when the lake floods.
The miles of flood brush, timber and rock rip-rap shorelines, the many points with submerged ridges, and the hundreds of tributary streams emptying into Lake Shelbyville provide prime and productive fishing areas. The lake is teeming with black and white crappie, largemouth bass, walleye, channel and flathead catfish, bluegill, muskie, bullhead, carp and sunfish. Special size and creel limits are in effect for some species, so please check with the site superintendent's office for specific information on fishing opportunities and regulations.
Treat your whole family to a day at the beach. A developed swimming beach, opens at the end of May and closed on the first of September, is situated in the southwest section of the park. A high water swimming beach is available when the lake floods. No lifeguards are available, so please remain in the buoyed area and be careful. Alcohol is not allowed past the main gate into the beach area, and pets, food and drinks are not permitted on the sand. Picnic tables and grills are available nearby.
For refreshing walks in the forests, Wolf Creek contains seven hiking trails. For invigorating winter time activity there is a 16 1/2-mile snowmobile trail, and for the equestrian there is a scenic 15-mile equestrian trail. For information about the riding stable please call (217) 459-2444.