Shelbyville Forest Park Family Aquatic Center
A Wet Wonderful World Adjacent to Lake Shelbyville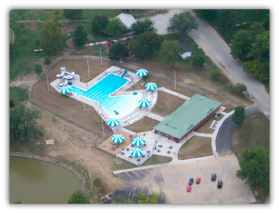 This awesome all-ages public swimming pool, blocks from Lake Shelbyville, provides heated zero-depth entry for the young, old, and physically handicapped.
It features wet playground, sand playground, concession/food area, shaded picnic areas and a bathhouse.
The facility also features lap lanes, a spring diving board, frog slide, water slide, and a one-meter drop slide.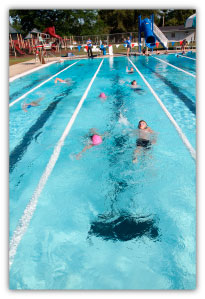 All lifeguards are trained in CPR,  (Cardiopulmonary Resuscitation) AED, (Automated External Defibrillator), basic lifeguard training, and rescue and through the American Red Cross.
The pool is also available for private birthday parties and functions.
The Aquatic Center is also home to the Shelbyville Lakers Swim Team, members of the South Central Swim Conference (SCSC).
Shelbyville Lakers Swim team strives to teach children how to become strong and efficient swimmers. Their purpose is to bring water awareness to swimmers ages 5-18 with goals to teach swimmers the technique of all four competitive swimming strokes; Butterfly, Backstroke, Breaststroke, and Freestyle.
More info available on their website at http://shelbyvillelakersswimming.weebly.com and their Facebook page at https://www.facebook.com/pages/Shelbyville-Lakers-Swim-Team/246859358666296?fref=ts
Opens Memorial Day Weekend – Closes Labor Day Weekend.
Hours: Mon.-Fr Noon-8 pm
Saturday 12-6 pm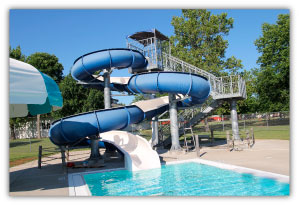 Sunday 1-6 pm
Hours Subject to Change based on weather conditions
$5.00 General Admission
$60.00 15 Punch Pass
$75.00 Individual Season Pass
$225.00 Family Pass (4 Members)
For more information call (217) 774-4343 or visit their Facebook page at: