Lake Shelbyville is a beautiful man-made attraction located in Central Illinois and attracts more than 4 million visitors every year. It's located just a few hours due south of Chicago, west of Indianapolis and east of St. Louis which makes it one of the premiere Illinois tourist destinations. The area and its facilities are managed by the US Army Corps of Engineers.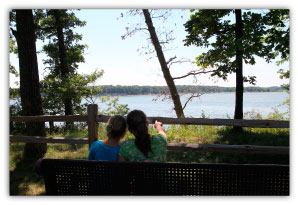 The lake was developed as part of a comprehensive plan to use the Kaskaskia River basin for flood control while developing the surrounding lake area for tourism, recreation and wildlife conservation. The lake is a sister to other nearby lakes, Rend Lake near Benton, Illinois and Carlyle lake located near Carlyle, Illinois.
Completed in 1970, the man-made lake is shaped by a 108‐ft (33‐m) high earthen dam. The shorelines are federally protected and span more than 11,000 miles. The federal development has been designed to ensure beautiful uninterrupted views of the lake's natural features and provides a natural backdrop for a multitude of recreational activities.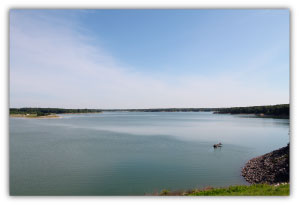 Adjacent to the wildlife and fish management area located alongside the Kaskaskia River and West Okaw River, the lake contains more than 6000 acres of mixed environmental habitats composed of wetlands – including streams and creeks as well as timber, prairies, grasslands, forests, brush, timber, and cropland. Most of these areas are located near the upper reaches of the nearly 34,000 acre lake project area. The lake offers some of the best nature study, hunting and fishing resources in the state. The entire lake area is policed by the Illinois Department of Natural Resources.
Home to many species of wildlife, visitors to the lake often lucky to see the likes of turkey, pheasant, dove, heron, osprey, ducks, geese, pheasant, dove, quail whitetail deer, raccoons, fox, and even occasional pelicans or bald eagles.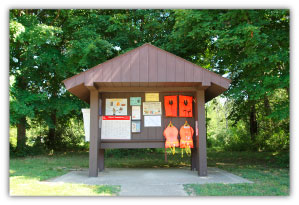 The lake starts at the Shelbyville Dam located at the edge of Shelbyville and extends north roughly 17 miles. It features more than 250 miles of scenic, wooded lake shoreline, further complimented by sand bars, peninsulas, inlets and shaded coves. Together, these make perfect spots for fishing and water recreation activities when combined with a normal pool averaging roughly 16 feet in depth, while often reaching maximum depths of 67 feet.
Host to a multitude of recreational opportunities, the lake includes multiple public beaches, with the largest beach and recreational area located west of the Dam (Dam West) which is also handicap accessible, equipped with beach mats and an accessible playground. Other beaches are located adjacent to Sullivan Illinois (Sullivan Beach) as well as Wilborn Creek recreational area, and Wolf Creek State Park.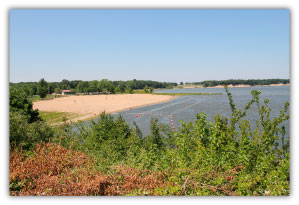 Most of the lake's recreational areas feature concrete boat launch ramps with high water boat ramps available in most areas to ensure access during high water. These boat access ramps are conveniently located near playgrounds and are typically equipped with picnic tables, dump stations and fish cleaning stations.
The lake also features three full-service marinas to service boaters with facilities offering food, beverage, grocery as well as boat and motor rentals, fuel, baits , tackle, boat dock and slip rentals.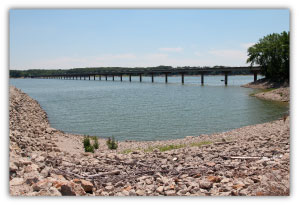 Campers can choose from more than 1500 public and private area campsites and the lake also features beautiful hiking trails ranging in distance from the General Dacey Trail to smaller 1/2 mile an up to more than 11 miles as well as a 15 mile horse trail. These trails are conveniently located at all campsites across the lake.
In addition to its federal recreational facilities and campgrounds, the lake is also complimented by three nearby state parks: Wolf Creek State Park located near Windsor, Eagle Creek State Park near Findlay and Hidden Springs State Park near Strasburg.
These wonderful features make Lake Shelbyville, its host city Shelbyville and the historical Shelby County area a wonderful place to visit.