Lake Shelbyville Hunting
The Avid Hunter's Dream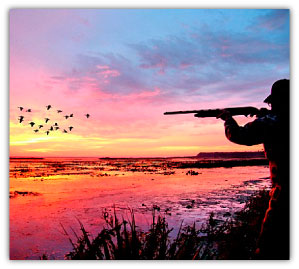 Lake Shelbyville hunting is the best of both worlds for both the avid hunter and the wildlife-watching enthusiast, with lots of option in the air and on land.
When visiting the area, hunting options include gun and archer deer hunting, rabbit hunting and waterfowl in the subimpoundments for both water and land hunters.
You can also find an abundance of  pheasant, dove, turkey, woodcock, quail, squirrels, fox, coyote and raccoon.
Controlled dove hunting is also allowed in managed sunflower fields during the first two days of dove hunting season. The number of participants in the hunts are limited due to safety and quality concerns where demands for the sport is greater than the available hunting area.
Held by the U.S. Army Corps of Engineers and Wolf Creek State Park, the annual Lake Shelbyville Deer Hunt for People with Disabilities takes place every November. A three day hunt is an excellent deer hunting experience and is a unique opportunity for those who would not normally be able to participate in such a physically demanding sport. Handicap Archery is available at Whitley Creek, and you can reserve blinds for the archery season. More information is available at (217) 774-3951, Ext.4.
Management of the Lake Shelbyville hunting lands are shared between the U.S. Army Corps of Engineers and the Illinois Department of Natural Resources (IDNR), so before engaging in any hunting activities at Lake Shelbyville, make sure you find out which agencies' land you intend to hunt on, and what rules and regulations are in effect on those particular lands so you  are familiar on all of the laws the land you will be hunting in.
Generally speaking, roughly 6,200 acres of state land, policed by IDNR is located in the upper reaches of the lake along the Kaskaskia and West Okaw Rivers are available to hunters with a site permit and well as Wolf creek and Eagle Creek State Park hunting areas. The Us Army Corp of Engineers oversees all other Lake Shelbyville related project lands.
To find out more about what species may be hunted and where, along with approved hunting methods, and effective dates before you hunt contact the Corp of Engineers or IDNR. Hunters can register for permits online at http://www.dnr.illinois.gov/.
The opportunities when hunting near Shelbyville are some of the best in the state and can make hunters young and old happy and tired after a long day outdoors.