Lake Shelbyville Illinois Dam & Spillway
A Man-made Marvel.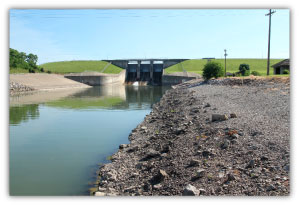 Lake Shelbyville Dam and spillway is located on the edge of Shelbyville, Illinois. The dam is an earthen structure implemented as part of the Federal Flood Control Act of 1938. Initial planning discussions date back as early as this time with construction beginning in 1963 and completed in 1970 by the U.S. Army Corps of Engineers.
The Dam was built to collect the waters of the Okaw and Kaskaskia rivers near Shelbyville with goals to improve flood control and draw recreation to Central Illinois.
The Dam is 3,025 feet long and spans 108‐ft (33‐m) feet high , with three spillway gates, or retainer gates, each one measuring 45 feet by 37 feet. Located at the bottom of the Dam are smaller sluice gates each 11 feet by 5 1/2 feet, used to control the water flow during normal conditions.
The Dam was designed to maintain a normal lake pool surface area of 11,100 acres of water with a flood pool surface area of 25,300 acres with an overall shoreline extension of 250 miles.
The spillway contains 102,000 cubic yards of concrete with a surrounding earth embankment containing 4,600 cubic yards of dirt.
During the building stages, old coal mines in the lake area required extra measures to reduce underground pressures to the dam structure, which included cutoff walls and underground spaces filled with grout. A minor slide occurred in the steeper portion of its upstream slope immediately after construction and before filling of the reservoir was begun. The slide was stabilized in 1972 by constructing a rockfill berm at its toe.
Seismic and hydrostatic pressure measures are routinely conducted to make sure the dam, including its earthen core, is holding up well to water seepage, a factor all earthen dams must face. Maintaining slope stability is another part of dam maintenance.
Recent safety studies reflect the only water released through the Dam is what needs to be moved as part of the overall water control plan. Simply put, the Dam isn't moving or leaking with the pleasant roar of "double-jets" of flowing water measuring in the thousands of gallons per second when needed.
More than 40 years later, the Dam acts the heart of a Midwesterner's playground, and continues to stand strong while playing it's important role in controlling floods across the Kaskaskia River Valley.
The dam and lake have become a destination for millions of visitors yearly who enjoy the likes of camping, boating, fishing, hiking, biking, horseback riding, and snowmobiling.
Public tours of the Shelbyville Dam are available Memorial Day through Labor Day taking place on Saturday's at 3 pm, Sunday 1 pm. Tours start at the Lake Shelbyville Visitor Center.
More information about the Dam and associated tours, please call (217) 774-3951, ext. 2.
When visiting Shelbyville, make sure you take time out to enjoy the awesome views from the top of the Shelbyville Dam and take in all the things it has to offer.