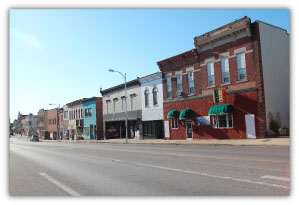 Shelbyville's historical downtown is about to receive a major, long-overdue makeover. The city has just been awarded a substantial grant as part of the latest round of State funding through the Illinois Transportation Enhancement Program (ITEP), a statewide investment into community transportation-related enhancement projects throughout Illinois.
The multi-project funding provides for work to be performed as part of Phase 5 & 6, to improve areas located along Main Street (IL. Route 16) between Washington and Broadway Streets. The upgrades will benefit the community through improved attractiveness and comfort, while increasing the historic surface transportation experiences. As an added benefit, the resulting work will also increase opportunities for business development and greatly enhance the experience for the millions of visitors who come to Lake Shelbyville every year.
City Engineer Alan Spesard, who has been spearheading the grant application preparation teams and submission process was excited to learn of the news today. "We now have the opportunity to change the look of downtown Shelbyville for the better, forever." said Spesard.
The work is a continuation of Phases 1 thru 4 projects which have been previously approved in a 3 year phased funding plan. Phase 5 & 6 project work will run in parallel. Phase 1 is a ITEP-2010 funded bike trail connector project associated with the Dacey Trail. Phase 2 thru 4 are locally funded projects and include downtown improvements to building facades, parking lots, and the mini-park area
The program further compliments Shelbyville's TIF District and a Business District formed in 2008 for the purpose of providing financing for downtown restoration, retaining existing business, and providing incentives for business growth.
The Phase 5 & 6 streetscape project consists of the construction of landscaping (i.e. planters, trees), decorative sidewalks (i.e. unit pavers), American Disability Act (ADA) compliant ramps & crosswalks and sidewalks (i.e. cross slope and trip hazard repair, detectable warnings), decorative pedestrian and overhead lighting, site furnishing (benches, trash receptacles), sidewalk void space repair (i.e. support for the new sidewalk), curb & gutter adjustment, parking revisions and other incidentals.
The Shelbyville "Downtown Works" committee formulated the phased approach with Phase 5 consisting of Main Street streetscape improvements from Washington Street to Morgan Street = $566,564; Phase 6: Main Street streetscape improvements from Morgan Street to Broadway Street = $780,495..
"This major investment in community transportation projects throughout Illinois will help improve the quality of life for everyone," Governor Quinn said. "These projects will create hundreds of jobs while preserving our heritage, beautifying communities and creating new transportation options across our state for pedestrians."
About Shelbyville Works
Shelbyville Works! is a group of volunteers committed to economic development in Shelbyville Illinois and enhancing the local tourism experience for visitors to Lake Shelbyville.