General Dacey Trail on Lake Shelbyville & Forest Park
The General Dacey Trail is a multipurpose trail designed for walkers, runners, and bicyclists. It's a great place for the whole family to spend time together enjoying the outdoors.
The trail concept plan is a mult-partnered regional effort to expand recreational trail opportunities into a 170-mile trail network to provide opportunities for bicycling, hiking, and other recreational trail uses, and provide off-road connectivity between local communities, public recreation areas and other interesting and scenic attractions in the region.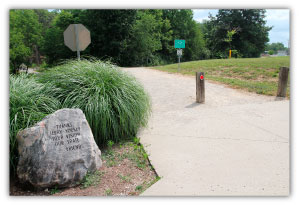 Opened in 2006, the trail has been constructed in four phases, with plans for a 5th & 6th phase of expansion scheduled to be complete in 2012.
While exercising, the trail is also a great place for bird watching, geocaching, and photography. It also offers users a challenging fifteen station outdoor fitness area, located on the lower shelf by the Dam Overlook.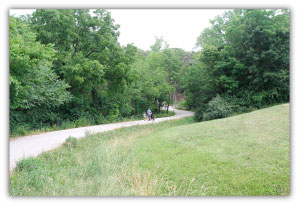 The trail heads are located at the Lake Shelbyville Dam West recreation area, the Dam Overlook, or just behind the Scout Cabin in Shelbyville's historic Forest Park.
Trail users can explore two of the one mile loop sections through wooded areas along Lake Shelbyville.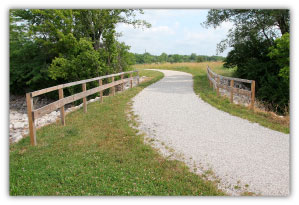 A third phase connects Forest Park to the Dam West Recreation area and the fourth phase takes users to the Shelbyville Dam Overlook.
The trail hosts the annual Tom Short 5k Trail Run every August as well as winter candlelight walks in January and February. The 2013 Walks will be held on January 19, 6-8pm, and March 2, 6:30-8:30pm.  As in previous years, Trails 2&3 will be fully, there will be a bonfire to warm chilled hands, and hot cocoa & spiced cider will be served.
More information and a map to the trail can be found at www.daceytrail.org