Annual Events and Festivals Near Shelbyville Illinois
Touchstone Energy Balloon Fest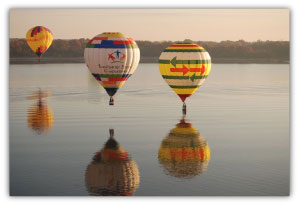 Held on Columbus day weekend. Come and enjoy colorful balloons as they launch from various locations in and around Lake Shelbyville and dot the sky with color. Come watch as pilots from all over the mid-west fly over targets to complete tasks and compete for prizes.
Balloon flights take place on Friday night, Saturday and Sunday mornings, with a spectacular balloon glow and cookout featuring a DJ.
Sponsored by Shelby Electric Cooperative and several other Illinois Touchstone Cooperatives.
Scarecrow Daze Festival
Sponsored Columbus Day Weekend  – Forest Park and downtown Shelbyville are full of activities for everyone to enjoy.
Featuring events like "make it, take it" scarecrow building, bingo, and various food and craft vendors with plenty of kids games and entertainment for all ages!
Saturday mornings feature the Annual Scarecrow Daze Parade through Shelbyville, which delights the young and old alike.
The annual Scarecrow Daze Car, Truck and Motorcycle show is held throughout the day as well.
Sponsored by the Scarecrow Daze Committee and the Greater Shelbyville Chamber of Commerce.
Festival of Lights
Held every December holiday season, come share magic in Shelbyville's Forest Park. and enjoy the hard work of dedicated community volunteers who donate their time to make this display possible.
The total transformation of the park grounds into an enchanting light display will get you in the holiday spirit and set the mood for the arrival of Santa!
With lights touching every area of the park, including soldiers, elves, villagers, victorian buildings, and many more animated displays including a transformation of the historic Chautauqua building into a giant carousel.
New displays are added every year for a unique and enjoyable experience.
For more information regarding these festivals held in Shelbyville you may contact the Shelbyville Chamber of Commerce.