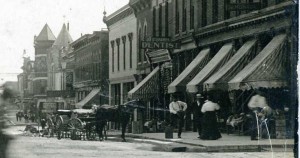 Shelbyville's architectural treasures downtown walking tour October 16 will highlight city's unique historic gems, followed by information on incentive programs.
There's no need to hunt for treasure in Shelbyville Illinois– Although home to beautiful Lake Shelbyville, many of the architectural gems of the community are downtown, and they will be highlighted during a free walking tour Tuesday, October 16 starting at 5:30 p.m. An informational session about historic preservation incentive programs will follow.
Downtown Works!, the City of Shelbyville and the Greater Shelbyville Chamber of Commerce invite the public to discover the interesting and little-known facts about Shelbyville's unique architectural treasures.
Project Designer Anthony Rubano of the Illinois Historic Preservation Agency will lead a walking tour discussing the architectural styles, materials, and treatments that make up historic downtown Shelbyville.
This free tour lasts approximately one hour and will begin in front of the historic Shelby County Courthouse at 5:30 p.m.
After the tour, refreshments will be served at City Hall, 170 East Main Street. At 6:30 p.m., Rubano will discuss the financial incentives available to owners of historic houses and buildings and how the Certified Local Government Program through the Illinois Historic Preservation Agency can benefit the community.
Shelbyville's architecture has been recognized by the federal government – a large part of the city is part of a National Register of Historic Places historic district. Becoming a Certified Local Government would allow Shelbyville to capitalize on its historic preservation efforts by allowing it to participate as a partner with the state and federal governments in preservation activities and incentives.
For more info contact:
Anthony Rubano (217) 782-7459
Joe Dunaway (217) 899-3407