Shelbyville CityWalk Presents –                       The Historic Downtown Landmarks Tour
About the Historic Downtown
Situated upon the west bank of Kaskaskia River, Shelbyville is one of the old towns of Central IL. It was nestled among the hills and bluffs of the river, and grew for 36 years before it became the village of Shelbyville in 1839. The streets sprawled out from the four-block square that made up the original town, and the town became the City of Shelbyville in 1863. Shelbyville continued to flourish into the 1900s.
As the county seat, Shelbyville has the largest population in Shelby County. Both were named in honor of Isaac Shelby, the Revolutionary War general and Kentucky's first governor. On December 22, 1976, the City of Shelbyville's historic district was placed on the National Register of Historic Places by the United States Department of the Interior.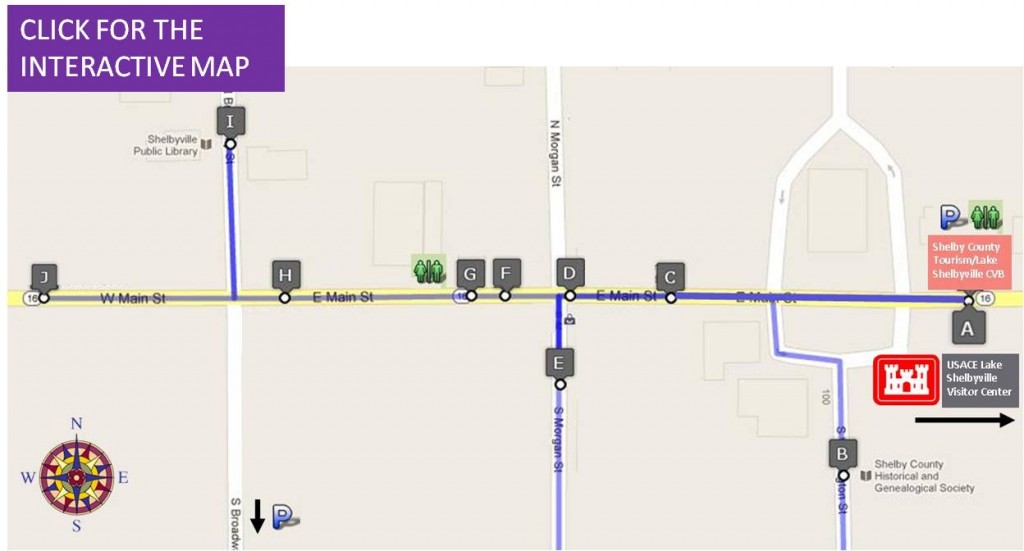 A – "The Armory" (320 E Main St)
B – "Shelby County Historical & Genealogical Society – SCHGS" (151 S Washington St)
C – "Lantz Brothers" (222 E Main St)
D – "Beetle's Confectionery" (200 E Main St)
E – "Sparks College" (131 S Morgan St)
F – "Shelby County State Bank" (155 E Main St)
G – "The Playhouse Theatre" (149 E Main St)
H – "Herron Building" (105 E Main St)
I – "The Shelbyville Public Library" (154 N Broadway St)
J – "Downs Chevrolet" (145 W Main St)
Learn More About Shelbyville's Historic Downtown

A printable PDF version of this tour is available here
Photos Courtesy of Donna Lupton, SCHGS
Special Thanks to:
City of Shelbyville, USACE Lake Shelbyville, Shelby County Tourism/Lake Shelbyville Area CVB, Greater Shelbyville Chamber of Commerce, Economic Development Council of Shelby County,  Shelbyville High School Welding Team, Corner Copy, SimplySell, Shelbyville Industrial Development, Shelby County Historical and Genealogical Society, ShelbyvilleWorks!, Illinois Historic Preservation Agency, Lake Land College and IIRA: Western Illinois University.