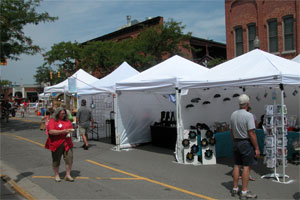 DowntownWorks, in conjunction with the Scarecrow Daze Committee is organizing an art and craft vendor fair at this year's Scarecrow Daze festival in downtown Shelbyville on Saturday October 6, 2012 from 9AM until 4 PM. Art and craft vendors from throughout the area will be presenting works for sale while demonstrating their skills.
Art Mart at the Park will be located in and around the Sister City mini-park at Broadway and Main and will include live music, food vendors and a "Build a Scarecrow" area for kids and adults. Artists and crafters who are interested in participating as vendors can contact Kathy Mulvaney at the Shelbyville Connection, 105 East Main Street 217-774-4344. Vendor registration fee is $25.
Space is limited and the deadline to apply is October 1, 2012.
Downtown Works! is a group of volunteers committed to encouraging the restoration of buildings and developing historically appropriate streetscape in Downtown Shelbyville. Our aim is to provide an environment conducive to a thriving businesses and vibrant activity.